GTA: The Trilogy - The Definitive Edition
OVERVIEW
---
THREE ICONIC CITIES,
THREE EPIC STORIES
Play the genre-defining classics of the original Grand Theft Auto Trilogy: Grand Theft Auto III, Grand Theft Auto: Vice City, and Grand Theft Auto: San Andreas updated for a new generation, now with across-the-board enhancements including brilliant new lighting and environmental upgrades, with high-resolution textures, increased draw distances, Grand Theft Auto V-style controls and targeting, and much more, bringing these beloved worlds to life with all new levels of detail.
---
Liberty City, USA. Welcome to America's worst city.
You've been betrayed and left for dead. Now you're taking revenge, unless the city gets you first. Mob bosses need a favor, crooked cops need help and street gangs want you dead. You'll have to rob, steal and kill just to stay out of serious trouble. Anything can happen out here.
Featuring a fully 3-D living city, a combination of narrative driven and non-linear gameplay and a completely open environment, Grand Theft Auto III represents a huge leap forward in interactive entertainment. For the first time, players are put at the heart of their very own gangster movie, and let loose in a fully-realised 3 dimensional city, in which anything can happen and probably will.
With a cast of hundreds, 50 plus vehicles, ranging from sports cars to ice cream trucks and from boats to buses, 3 hours of music, including opera, reggae, house, drum and bass, pop and disco, a huge array of street ready weapons and some of the seediest characters in video game history, Grand Theft Auto 3 is a sprawling epic which will show you that sometimes, crime can pay and sometimes it can pay you back. Available now for PlayStation®2, Xbox, PC and Mobile Devices.
---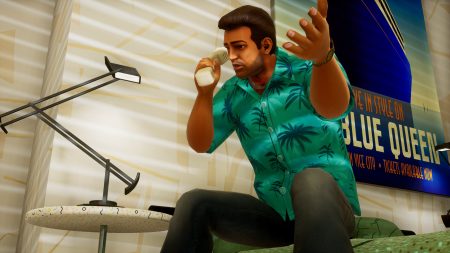 Welcome to Vice City. Welcome to the 1980s.
Having just made it back onto the streets of Liberty City after a long stretch in maximum security, Tommy Vercetti is sent to Vice City by his old boss, Sonny Forelli. They were understandably nervous about his re-appearance in Liberty City, so a trip down south seemed like a good idea. But all does not go smoothly upon his arrival in the glamorous, hedonistic metropolis of Vice City. He's set up and is left with no money and no merchandise. Sonny wants his money back, but the biker gangs, Cuban gangsters, and corrupt politicians stand in his way. Most of Vice City seems to want Tommy dead. His only answer is to fight back and take over the city himself.
As a major gateway to South America and the Caribbean and attracting migrants, Vice City is brimming with diverse characters, so there's a friend for everyone. It is a sociable place and the new guy in town is sure to meet all manner of friendly people in the sunshine capital of America. Athletes, pop stars, real estate developers, politicians, trailer trash, everyone is moving to Vice City to find out what makes it the number one growth city in America. But, as Tommy quickly finds out, trust is still the rarest of commodities.
Vice City offers vehicular pleasures to suit every taste. For the speed enthusiast, there's high-performance cars and motorbikes. For the sportsman, a powerboat or a golf buggy lets you enjoy the great outdoors. For those that need that sense of freedom and escape, why not charter a helicopter and see the beauty of Vice City from the air?
As the party capital of America, you would expect your ears to be seduced by a host of sultry melodies and pumping beats, but the city is truly rocking. You'll be amazed as you sweep through Vice City's FM dial. If you are feeling like trouble, you can tune into some driving rock, or some crucial electro, or maybe you want to slow down with some sweet soul, and there will always be some great romantic anthems if you want to really take your mind off things.
For the action man, or outdoors type, there's tons of fun things to do and adventures to be had, guaranteed. For the secretive or creepy type, Vice City is full of surprises, a place where you'll constantly be surprised by the vivacious, fun-loving types who live there and the things you can discover.
---
Five years ago Carl Johnson escaped from the pressures of life in Los Santos, San Andreas… a city tearing itself apart with gang trouble, drugs and corruption. Where filmstars and millionaires do their best to avoid the dealers and gangbangers.
Now, it's the early 90s. Carl's got to go home. His mother has been murdered, his family has fallen apart and his childhood friends are all heading towards disaster.
On his return to the neighbourhood, a couple of corrupt cops frame him for homicide. CJ is forced on a journey that takes him across the entire state of San Andreas, to save his family and to take control of the streets.
---
Developer: Rockstar Studios & Grove Street Games (Mobile Version)
Platforms: PS4, PS5, Xbox One, Xbox Series X|S, Nintendo Switch, PC, Android & IOS
Initial Release Date: 11th November, 2021