Rockstar Universe – How to Navigate Our Website
By Lewis In Rockstar Universe On 23 September 2021
---
---
After what feels like a lifetime… welcome back to Rockstar Universe!
One thing that we wanted to do with re-launching the website was keep the same theme as we had before, but make it better. Why? Well because it is easy to work with as we've used it before, but also because it looks smart, is easy to navigate around and has a number of great features.
For those who have never visited our website, or simply can't remember it, we have made a little introductory guide on how to navigate around our website and highlight some of the new features we have added.
---
Our Home Page
Our home page is the face of our website and we feel it's important to look the part and be clean from advertisements and popups so that our users are able to easily navigate through it. Open the image above to view the full resolution and see a breakdown of our home page. Any future posts that we publish will be located on the grey area in the middle of the page.
Our game pages are broken down into their dedicated areas relating to each series. For example, all of our Max Payne games will be located in the 'Max Payne Series' area of the search tabs located on the left side of the screen. Within these game series you will find each game which has 3 relevant pages to them. A 'Game Overview'; 'Game Details' and 'Game Media' page. For more information on these, read below.
---
Game Overview Pages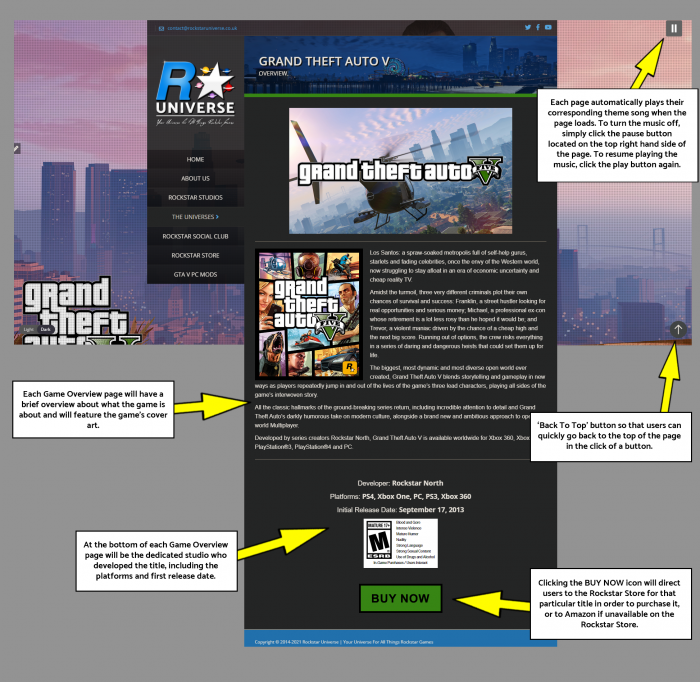 Each of our games will have a Game Overview page which will provide a brief description of what the game is about and will include details located at the bottom of which Rockstar Studio has developed the game as well as the platforms it has been released on and when.
One thing we have added to these which wasn't available last time is a BUY IT NOW button. Clicking this will re-direct you to either the Rockstar Store so that you can view the game and purchase it, or for older titles that aren't available on the Rockstar Store such as Max Payne 1 & 2, GTA LCS & VCS etc. the link will re-direct you to Amazon's website.
One thing which we had before was the relevant theme song automatically playing when entering that page. This was something which we had a lot of positive feedback from and is a feature we have included back in our site. If you wish to turn the music off (which is probably going to be required on the Game Media page when watching a trailer), simply pause it using the button located on the top right of the screen.
---
Game Details Pages
One thing that we wanted to keep with our website was easily identifiable information. By this we mean, no pages spread out across the website and all information about a game available in one place. Our Game Details pages each have a Page Contents area at the top which has sub-categories with information about that title. The great thing about this is, each one is anchored meaning you can click the content you want, for example SOUNDTRACK, and it will automatically take you down to that area of the page where the information is located. To go back up, just use the Back to Top button which we highlighted in the above game overview section.
As new titles are announced and released, we will continuously update our Game Details pages with all of the relevant information. We will also over time update existing pages and expand on the information about them by introducing new content areas.
---
Game Media Pages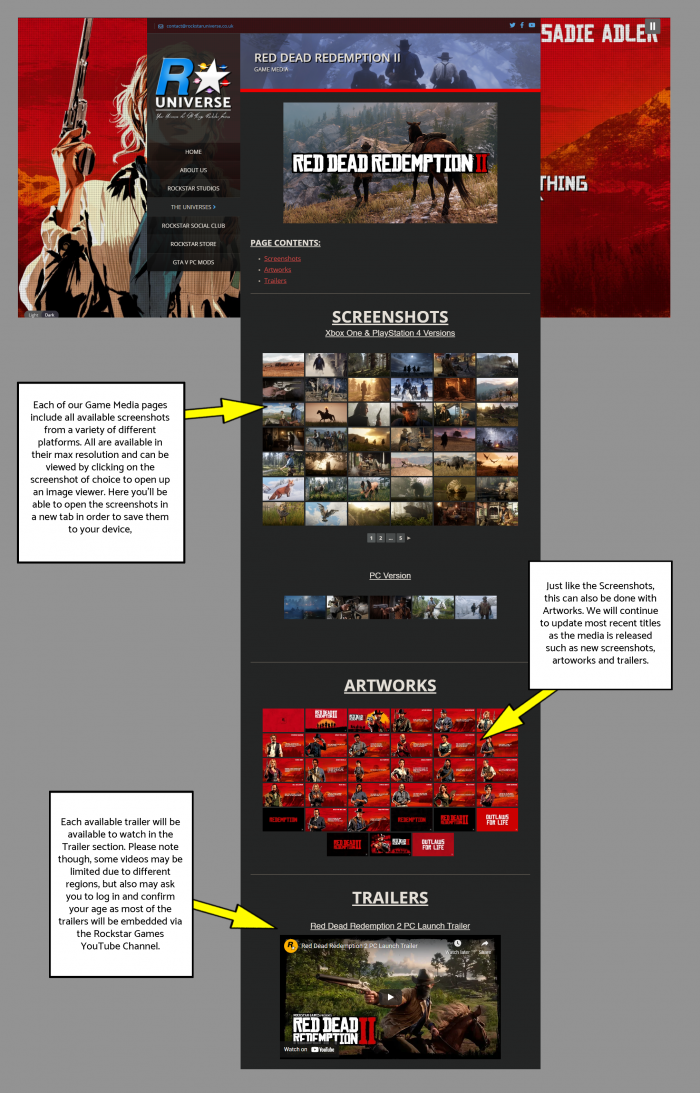 Our Game Media pages include the same features as our other pages such as the page music and back to top elements, and follow the same pattern as our Game Details pages in relation to having everything available in one place. To navigate to the area you want, choose the Page Content area such as Trailers to be taken down the page to that area. Our Game Media pages include all available screenshots and artworks in their maximum resolutions and are uploaded into galleries that are easily visible and accessible, especially if you're wanting to download them to your device.
---
Our Logo
One thing which we decided to do was slightly adjust our logo, especially given the current controversy with Take-Two Interactive and the modding community. With this slight alteration, this means that our logo does not use any material from the Rockstar Games logo and is solely independent and free from any copyright infringement. That being said, this should hopefully mean we will be able to produce merchandise such as t-shirts, hoodies and other items without any backlash from Take-Two, however this will be something that will be trialed over time.
To download our logo in full HD, click the image above.
---
We are extremely pleased to be re-united with our brother and sister fansites and be involved back with the Rockstar Games community. Our promise is to not necessarily always be the site to announce or report on news first, but to be the fansite that puts its community first and ensures that the things we do report on are accurate, honest and legitimate but also get our community involved with giveaways, volunteer opportunities and more. We would like to take this chance to thank every single person for their support, and we look forward to seeing the future of Rockstar Universe!
---