Earn 4X for Completing GTAOnline 'A Superyacht Life' Missions, Plus More This Week
By Lewis In GTAOnline On 2 June 2022
---
---
Enjoy life in the lap of luxury, whether you're tearing up asphalt in an exclusive supercar or cutting a wake across open waters in the wide expanse of the Pacific Ocean. This week's all about access to the upper crust of local living, but it's not just about kicking back: wage war on the high seas, shop for exotic vehicles, or help Martin Madrazo tie up a few loose ends. The choice is yours.
Stake your claim on the high seas — complete A Superyacht Life missions this week to earn a bounteous haul of 4X GTA$ and RP. Plus, there are three additional GTA$100K bonuses available this week — one each for completing Salvage, Icebreaker, or D-Day.
Players who purchase the Galaxy Super Yacht between now and July 6 (available at a 50% discount this week) and complete all six A Superyacht Life missions will receive a GTA$1M rebate to their Maze Bank account. All GTA$ bonuses and rebates are delivered within 72 hours of completion.
---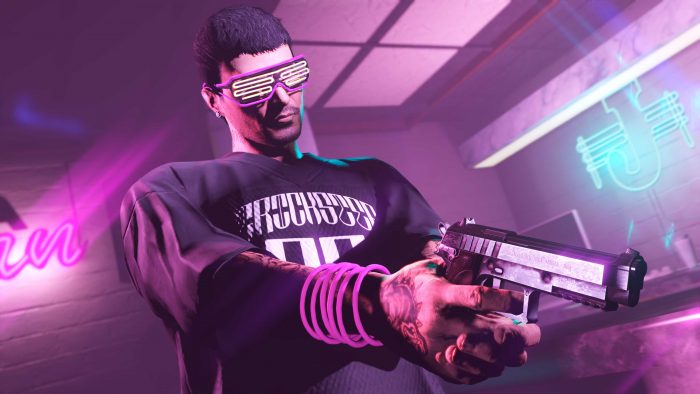 Free Accessories for Entrepreneurs and Accomplices
Keep your living afloat — completing any Bunker, Biker, Smuggler, Special Cargo, or Import/Export Sell Mission over the course of this week will yield the Pink Bangles, free of charge. Those who sign up to become an Associate or Bodyguard during this time will receive a gratis pair of the Pink & Yellow Glow Shades.
---
3X GTA$ and RP on Drop Zone
This week marks the return of Drop Zone, Top Fun, and Vehicle Vendetta to GTA Online. Drop Zone will be paying out 3X GTA$ and RP to all competitors ready and willing to sky-dive into an active battlefield and maintain control of a hot target area.
---
2X GTA$ and RP on Martin Madrazo Contact Missions
Few names strike fear into the hearts of the Los Santos locals quite like Martin Madrazo. Whether you're a career criminal or an innocent barista at Cool Beans, you can't help but clench involuntarily. But brave souls who take the crime boss up on his Contact Missions, including Madrazo Dispatch Services, will receive Double Rewards for their efforts, all week long.
---
This Week's Prize Ride: The Vapid GB200
Dogged competitors who manage to place in the Top 3 in the Street Race Series for three days in a row will receive the Vapid GB200, the automotive equivalent of a snarling pit bull.
---
Test Out the Pegassi Tezeract, Coil Cyclone, and Pegassi Osiris
With so many choices on the market, picking out a new set of wheels can be daunting — why not pay a visit to the Test Track inside of the LS Car Meet? This week, you can see how the Pegassi Tezeract, Coil Cyclone, and Pegassi Osiris feel as they tear a route between the Test Track's columns, compete with your peers in a randomized Scramble or race against the clock in a Time Trial, all at no personal cost.
---
Visit the lobby of The Diamond Casino & Resort anytime this week to give the Lucky Wheel its daily spin. Who knows, you might win the Pegassi Infernus Classic, the chariot of choice for the glitterati of a bygone age, a sports car so classic it practically reeks of aftershave and cigar smoke.
---
DISCOUNTS
Whether you're wresting control of the highway or the open waters, there is a roster of high-end vehicles on offer this week, ranging from 30% to 50% off:
50% off Galaxy Super Yachts

50% off Lampadati Toro

50% off Benefactor Streiter

50% off Benefactor Glendale Custom

40% off Pegassi Tezeract

40% off Grotti Stinger GT

40% off Grotti Italia GTO

40% off Vapid Peyote Gasser

30% off Grotti Visione

30% off Principe Lectro

30% off Coil Cyclone

30% off Pegassi Osiris
---
GTA+ Benefits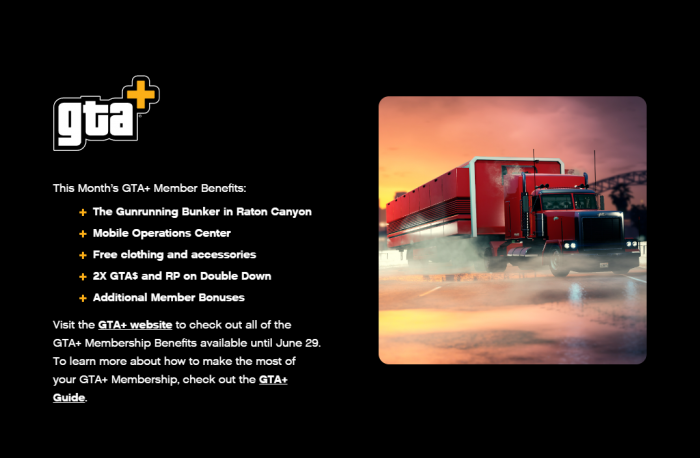 ---
Prime Gaming Benefits
---