GRAND THEFT AUTO ONLINE
GAME DETAILS
---
PAGE CONTENTS:
---
ABOUT GTA ONLINE
Grand Theft Auto Online is a dynamic and persistent open world for 16 players that begins by sharing content and mechanics with Grand Theft Auto V, but continues to expand and evolve with content created by Rockstar and other players. Taking the fundamental concepts of open-world freedom, ambient activity and mission-based gameplay and making them available to multiple players in an incredibly dynamic online world, we offer players the freedom to explore alone or work cooperatively with friends to complete missions. Residents of Los Santos band together to participate in activities and ambient events, or compete in traditional game modes with the entire community, all with the personality and refined mechanics of Grand Theft Auto V.
You start by creating and developing a unique character from the ground up and can invest in your potential criminal by customizing his or her appearance, improving their stats, owning customized vehicles, purchase personal property, and taking part in Jobs, Missions and activities that continually open up new opportunities to rise through the criminal ranks.
Grand Theft Auto Online will continually expand and evolve over time with a constant stream of new content, creating the first ever persistent and dynamic GTA game world.
---
FREEMODE
Go on your own or round up your friends to explore the open world together – catch a movie, hit the shooting range and much more. Want to test the law? Knock over a convenience store for easy cash and Reputation. Or try your hand at Freemode Events – seamlessly integrated games and challenges against other players. The wide open world of Los Santos and Blaine County in Grand Theft Auto Online are teeming with opportunities to paint the town red whilst chasing the almighty green – including:
FREEMODE EVENTS
Featuring 12 unique experiences: Hunt the Beast, King of the Castle, Hot Property, Moving Target, Kill List, Penned in, Dead Drop, Checkpoint Challenge, Time Trial, Hold the Wheel, Criminal Damage, and 19 unique Freemode Challenges.
HOLD UPS
Players can rob convenience stores, gas stations and liquor stores alone or together for cash. Robberies will trigger a wanted level that will be shared among the perpetrators.
IMPORT/EXPORT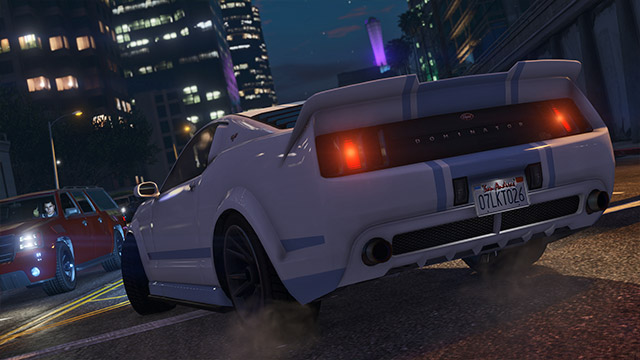 Simeon Yetarian of Premium Deluxe Motorsport is looking to employ individuals with flexible work hours and the skill sets to "find" and deliver select vehicles for a handsome cash reward. Keep an eye out for his incoming texts.
BOUNTIES
Can you really put a price on a dish best served cold? In Los Santos, revenge has a price point that you can gleefully assign to an unwitting adversary to make them the target of every hired gun on the map.
IMPROMPTU RACE
Some scores can't wait for starter's orders to get settled – an Impromptu Race lets you see who drives hardest right there on the street. Select "Impromptu Race" in the Interaction Menu to trade paint with other players in Freemode.
IMPROMPTU DEATHMATCH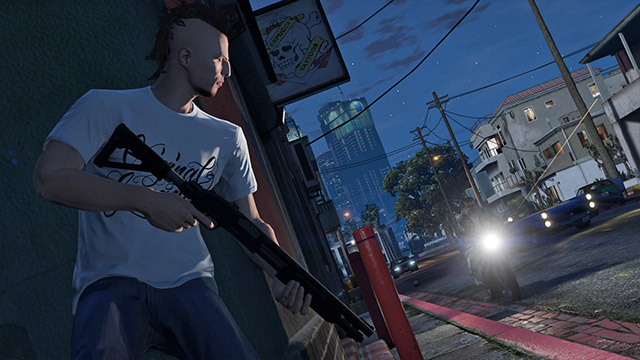 If it seems like you're getting a little too much attention from one particular admirer by means of picking you off repeatedly, you can feel free to make things personal by engaging them in a one-on-one Impromptu Deathmatch in a place of your choosing to settle the score.
JOBS

Los Santos and Blaine County are ripe with opportunity for the ambitious and criminal minded. Take on Missions and an array of other Jobs as a lone wolf, team up with your Crew or join fellow mercenaries and degenerates to pull off a wide range of robberies and illicit activities together including:
RACE:
Whether it's on two wheels or four, through air or across sea, finishing first is a popular pastime in Los Santos. There are many Races to take part in, ranging from off-road dirt disturbers, to speedboat sprints, to daredevil stunts, to off-the-radar, low flying deathwishes. For more information about Races, view the 'Races' section below.
DEATHMATCH:
Have you maxed out your mental health stat? If your trigger finger is constantly itching and you have a healthy disregard for your own safety, a Deathmatch could be the perfect way to let off steam. You'll find Deathmatches across Los Santos and Blaine County and, if you're with a like-minded Crew, you can take on others in Team Deathmatches. If you're going to spill blood, do it together.
LAST TEAM STANDING: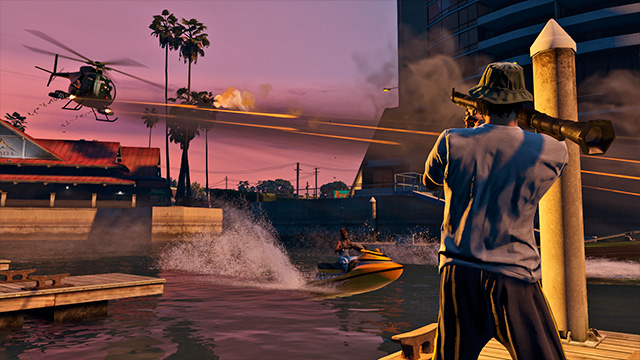 GTA Online's most high-stakes mode gives you one life – use it wisely. It's all about both staying power and stopping power as two teams face off and all that counts is being alive at the end.
PARACHUTING:
If hurtling towards the ground at the mercy of a piece of string is your cup of tea, then there are plenty of adrenaline-pumping Parachute Jumps around Los Santos and Blaine County. Deftly navigate through the targets and land in the right place – in one piece – to win.
CAPTURE: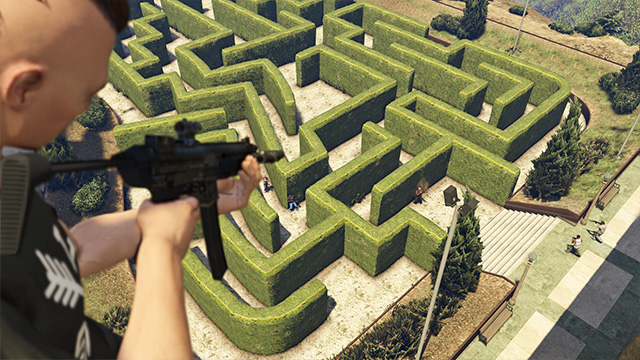 Capture is a GTA twist on classic capture the flag style confrontations, with multiple teams competing in tug-of-warfare skirmishes to take control of vehicles and coveted contraband.
SURVIVAL: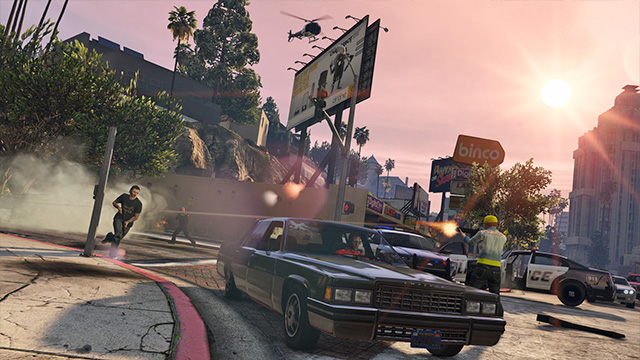 If the term 'against the odds' makes your mouth water, then Survival is the Job for you. Up to four players must withstand 10 waves of increasingly hostile enemies to see who will be the sole survivors. Not for the weak-livered.
HEISTS:
A 4-player cooperative gameplay experience for Grand Theft Auto Online, giving players the chance to team up and pull off a string of intense, multi-part heists, raids and robberies across Los Santos and Blaine County. For more information on Heists, view the 'Heists' section below.
MISSIONS:
Go it alone or pull together a team to dominate over 100 challenging Missions that are unlocked as you progress through the ranks of Grand Theft Auto Online. The payouts, unlocks and rewards evolve as you advance, so formulate your plan and take control of Los Santos and Blane County.
ADVERSARY MODES: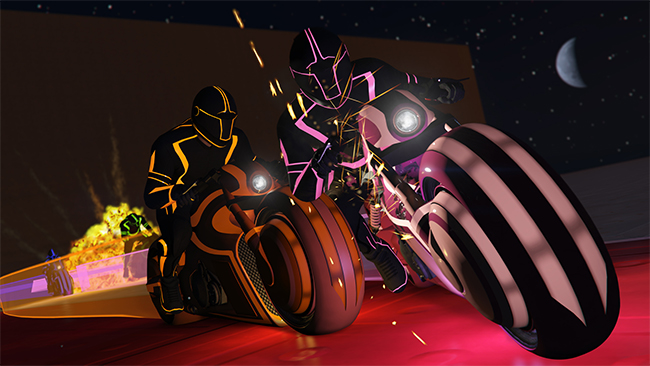 Adversary Modes bring intense player vs. player competitive challenges that expand the world of Grand Theft Auto Online – both for teams working together, and for aces and pairs to prove that they can survive when the numbers are stacked against them. For more information on Adversary Modes, view the 'Adversary Modes' section below.
---
RACES
Whether it's on two wheels or four, through air or across sea, finishing first is a popular pastime in Los Santos. There are many Races to take part in, ranging from off-road dirt disturbers, to speedboat sprints, to off-the-radar, low flying deathwishes.
Explore the different types of Racing by clicking on the tiles below:
---
ADVERSARY MODES

Adversary Modes bring intense player vs. player competitive challenges that expand the world of Grand Theft Auto Online; whether you are behind the wheel of a big rig, trying to mow down slower (but more maneuverable) Cyclists in Hasta La Vista, or on a team of paratroopers jumping from Cargobobs to gain control of a small, exposed patch of the map in Drop Zone, Adversary Modes offer a series of challenges – both for teams working together, and for aces and pairs to prove that they can survive when the numbers are stacked against them.
Explore each Adversary Mode by clicking on the tiles below:
---
HEISTS
A 4-player cooperative gameplay experience for Grand Theft Auto Online, giving players the chance to team up and pull off a string of intense, multi-part heists, raids and robberies across Los Santos and Blaine County.
*Please note – There is background music playing on this page. In order to stop this to hear the video, please use the pause button on the top right of the page*
---
PLAN, PREPARE, EXECUTE:
Online Heists span numerous missions featuring new gameplay, vehicles, weapons, and scenarios to test a team's full set of skills: from computer hacking to stealth infiltration, precision driving to aerial dogfighting, sniping, skydiving and much more.
4-PLAYER TEAMS, 4 WAYS TO PLAY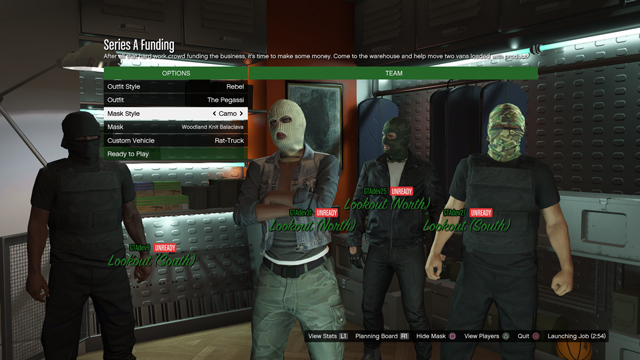 Choose your roles and strategize to complete each stage of a Heist, with tight communication and coordination the key to success. Some missions will require the team to work as a single unit, while others will break the team into separate roles to complete key objectives. Replay each Heist to experience a different perspective on the action, and complete Elite Challenges for extra cash.
ASSEMBLE YOUR TEAM
Create a crew or join existing crews to earn additional RP rewards as you play.
---
CRIMINAL ORGANIZATIONS
Build your own enterprise from the ground up to become the ultimate criminal kingpin of Los Santos and Blaine County in Grand Theft Auto Online. Shape your Organization by hiring (and firing) other players as Bodyguards and Associates, purchase an amenity rich office complete with an executive assistant to manage your operations, accumulate a network of Warehouses to store your special cargo, dominate the city's trade in stolen luxury vehicles, and much more.
BE YOUR OWN BOSS
Players can become a VIP through the SecuroServ option in the player interaction menu with the ability to create and name their own Organization, and hire up to 3 other players to serve as Bodyguards. VIPs collect all of the cash that is earned by the Organization and its employed Bodyguards, have access to special abilities, can trigger VIP Work and Challenges, drop ammo and armor, order new vehicles on-demand, and much more.
THE EXECUTIVE SUITE
You'll need to cover the basics before you can really start rolling in the profit – most important of all is buying an Office, which gives access to CEO status (including all the benefits of being a VIP) and acts as the center of all your illicit operations. Personalize your office with a range of décor options and your own Organization name, and select from optional amenities including: a Safe to watch your cash grow, an Accommodation Area, and a Gun Locker to allow you to customize your weapon loadout.
WAREHOUSE OPERATIONS
Running a criminal enterprise takes a network of resources, not the least of which includes Warehouses for storing ill-gotten goods. Warehouses come in small, medium and large sizes, and a CEO can own up to five at a time. Before purchasing a Warehouse, try to select one that best suits your needs, including location and size. Warehouses also include Workbenches, to upgrade designated vehicles used during Special Cargo missions with enhancements such as armor and homing missile jammers.
BUYING SPECIAL CARGO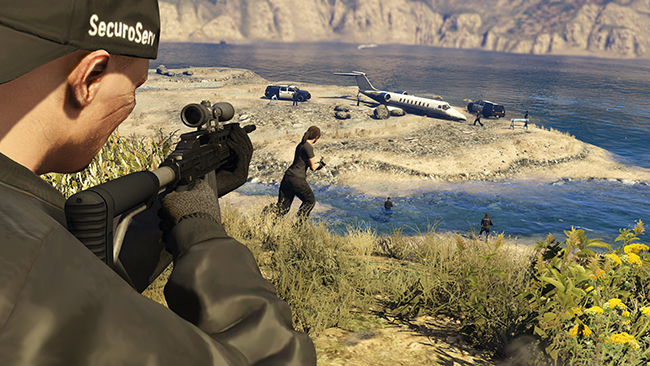 Only CEOs have access to Special Cargo missions – dangerous, multi-part missions that call for a coordinated team of Associates to complete successfully. Buy missions range in scope and size, from police stings to high-speed pursuits, helicopter ambushes and more. Plan your mission timing carefully, know your Warehouse locations, make sure that you've hired skilled Associates to handle the shipment, keep your phone contacts and CEO abilities on-hand, and perhaps most of all, understand risk-reward scenarios.
SELLING SPECIAL CARGO
Sell missions are a CEO's opportunity to cash-in on their hard-earned supply, but also come with risk-reward considerations; selling larger amounts will garner interest from wealthier buyers, but also runs a higher risk. Maximize your Special Cargo value by timing the sale of your inventory; in-demand cargo can net wider margins, however, Warehouses stocked with valuable cargo won't stay a secret for long – beware of attacks from resident gangs of Los Santos attempting to steal a slice of your pie.
IMPORT/EXPORT
In Import/Export, CEOs will get their hands dirty alongside their Organization, stealing and dealing in "liberated" luxury vehicles with Vehicle Cargo while Executive Offices get a facelift with the newest Executive Garage housing up to 60 vehicles. And tap into rare, highly unusual, and federally prohibited Special Vehicles that are capable of streamlining your corporate misdeeds in explosive new ways.
BUNKERS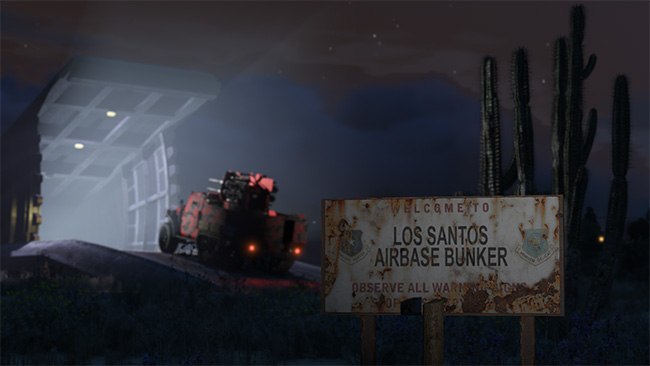 Everything begins with a Bunker: the massive, underground hub of your new enterprise. Any CEO, VIP or MC President can jump start their promising career from here to get operations off the ground.
MOBILE OPERATIONS CENTER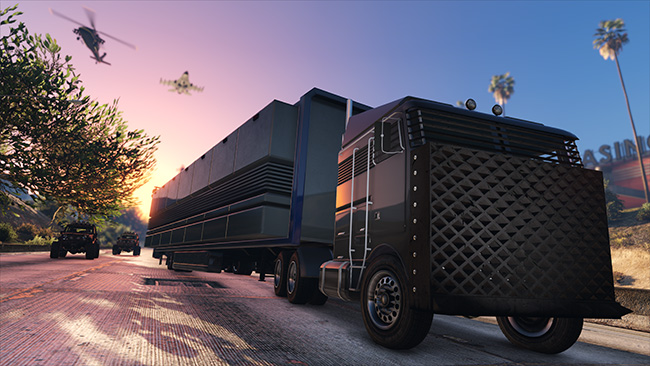 For heavy duty tactical operations on the move, arms dealers can invest in a Mobile Operations Center (MOC), the kind of powerful support usually enjoyed only by trained assassins or rogue nuclear states. Storable in your Bunker, this drivable command center's modular construction allows for tailored combinations of vehicle workshop, weapons workshop, luxury living quarters, and command center – with facilities for upgrading and customizing your arsenal and modifying Weaponized Vehicles (including turrets for your MOC that can be manned by your squad) – all at your fingertips, and pulled by a fully customizable commercial semi.
WEAPONIZED VEHICLES
Weaponized Vehicles are a brand new class to stock and customize. Build a fleet to cover every eventuality: from the ultimate utility of the fully amphibious, cannon-toting APC, to a mobile anti-aircraft trailer that'll have pilots soiling their cockpits across the state. Weaponized Vehicles can also be employed as company assets instrumental in delivering cargo to any drop-off.
RESEARCH AND DEVELOPMENT
Beyond manufacturing your stock to sell, reap the benefits of your Bunker's white coat staff by allocating their time to Research and they'll get busy unlocking a range of optional upgrades including unique personal weapon modifications, a whole range of brutal tech for your Weaponized Vehicles, and terrifying upgrades for your Mobile Operations Center.
---
BIKERS

Bikers opens up an entirely new part of the criminal underbelly of GTA Online, bringing proper Motorcycle Clubs to the roadways and ever-evolving illicit markets of Blaine County and Los Santos.
*Please note – There is background music playing on this page. In order to stop this to hear the video, please use the pause button on the top right of the page*
---
MOTORCYCLE CLUBS
Life in an MC is more than just a fleet of shiny new rides and impressive leather cuts. Bikers brings a range of new ways for clubs of up to eight players to earn their keep, battling rival MC's and other criminal factions. Enterprising players can form and be the President of their own MC, while anyone seeking MC life can join as a Prospect. As newcomers prove their worth, Presidents can promote Prospects to meaningful roles within the club's structure including Vice President, Road Captain, Sergeant-at-Arms, and Enforcer. Each MC role comes with its own unique abilities to help themselves and the larger MC, from dropping Body Armor and calling in Hit Squads to setting MC riding formations and starting MC Challenges.
BUSINESSES
The open road isn't just a stretch of Chumash pavement anymore; log in to the nefarious Open Road online network to launch a new (non San Andreas Board of Commerce sanctioned) business. Choose how your MC is going to earn its money, as Open Road clients offer opportunities in document forgery and cash counterfeiting as well as large scale narcotics distribution. Small business owners will setup their operation with supplies before beginning production. Once your business is off the ground, build them further with risky resupply runs, and stay on the lookout for other factions who might take an interest in any unsecured operations. When you're ready, trade your goods for a profit and use your gains to reinvest in your businesses with available security, staffing and equipment upgrades.
CLUBHOUSES
Your MC's Clubhouse is the base of operations. Choose from locations across the salty shores of Paleto Bay to the streets of Rancho, and make your purchase via the Maze Bank Foreclosures website. Each Clubhouse comes complete with its own bar, activities like Darts and Arm Wrestling, various murals and the option to upgrade to your own in-house Custom Bike Shop.
MEETING ROOMS
Each Clubhouse includes a meeting room; Presidents can use the Contracts Wall to launch new Clubhouse Contracts – a range of new Freemode missions for you and your MC members to earn some tidy GTA$ and RP through a range of noble deeds – from the forceful liberation of your falsely incarcerated allies to good old-fashioned gunrunning. Gangs will also work against other factions in Los Santos, including opportunistic rivals seeking to exploit your MC's honest work for their own gains.
---
SPORTS & ACTIVITIES
Join your friends / any random stranger for a game of Tennis, a round of Golf or go base jumping and more, all for cash and Reputation.
Explore each Sport/Activity by clicking on the tiles below:
---
REPUTATION & CASH FLOW
Reputation is earned from all your accomplishments in GTA Online – and will help you rank up, providing access to new features, weapons and criminal contacts. Spend cash you've gained on cars, clothes, guns, properties and much more.
MONEY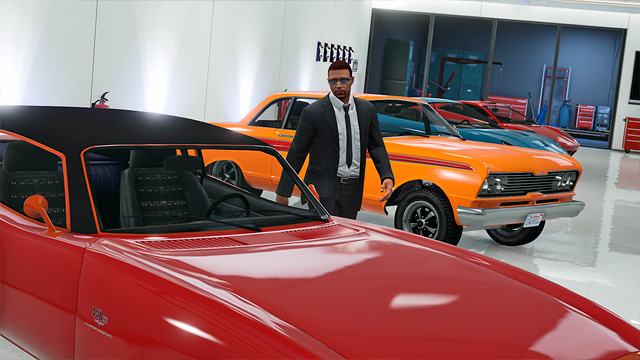 Cash is king, and industrious residents who hustle to afford the finer things by earning GTA$ doing robberies, hold-ups, winning races and other profitable activities can afford to live the high life with a fly apartment, fine clothes and accessories, weapons and other status symbols.
REPUTATION POINTS
Reputation Points (RP) are earned for almost everything you do around Los Santos – scoring kills in Deathmatches, overtaking rivals in Races and even just rolling with your Crew in Freemode – and it all counts towards your Rank. Not only will a high Rank make any would-be ne'er do well think twice; certain weapons, vehicles, clothing and other items are only available from certain Ranks onwards.
SKILLS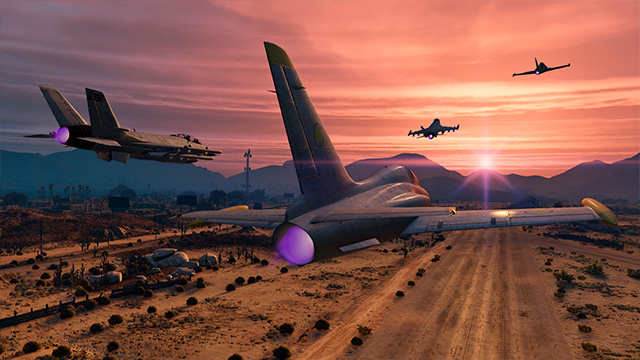 The School of Hard Knocks, Los Santos. If you're going to stay ahead of the criminal competition then you're going to need to put the work in – and this kind of self-improvement doesn't come at the end of a scalpel. Your shooting, driving, flying, stealth, stamina and stealth skills can all be trained to give you an edge.
CREW RANK
A tight Crew is greater than the sum of its parts. Not only will Crew Members receive bonus RP for sticking together, completing Jobs as a collective will increase the overall Crew Rank, unlocking exclusive clothing and other items.
---
CUSTOMIZATION
The world of GTA Online is filled with thousands of options to customize your criminal lifestyle: character appearance, clothes, haircut, tattoos, cars, weapons, and much more. Craft the look of your character from facial features down to your favourite watches, customize a fleet of custom vehicles and store them in your private property, or trick out your weaponry with flash and firepower. Provided you've earned enough cash on the streets of Los Santos, of course.
CHARACTER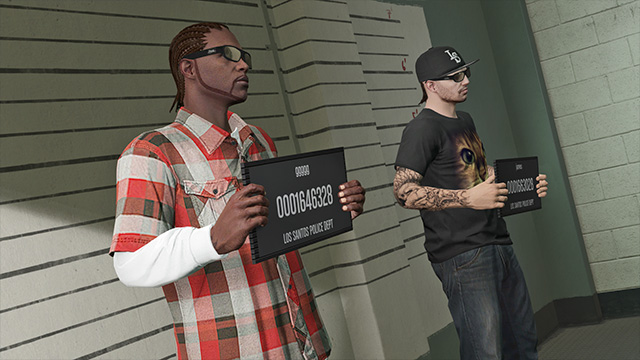 Welcome to Los Santos. Before getting discharged from an LSPD lock-up and let loose on the streets, you have the chance to customize your GTA Online character any way you see fit using the Character Creator system. Determine your facial appearance, gender, body type, behavioural tendencies, even your heritage, as well as select a particular set of skills for your future criminal lifestyle. Want to be a high-flying ace of the skies, or an up-close-and-personal thug of the streets? Set yourself up for success now.
OUTFITS & ACCESSORIES
Thousands of outfits and accessories are available to add to your wardrobe. Pick up a new suit, sweater or top-hat and stroll the streets in style, or get tactical by grabbing combat gear and an intimidating mask to hide your identity. Stores like Ponsonbys, SubUrban, Binco and more are found throughout Los Santos and Blaine County and have a wide range of clothes and accessories to choose from, so go ahead and grab an outfit for all the activities you'll find yourself in.
HAIRCUTS & TATTOOS
It takes more than a dapper outfit to get noticed in Los Santos. Head to your local barbershop or hair salon to pick a hairstyle that fits your criminal mentality. Mohawk, buzzcut, ponytail, slicked back – it's all up to you. Complete the look by stopping by one of Los Santos or Blaine County's tattoo parlors to get some ink on your arms, legs, torso, or neck.
MOD SHOPS
Make sure your vehicle matches your style by taking it to a local mod shop, such as Los Santos Customs. Get a fresh paintjob, some shiny new rims, install an aggressive body kit, add performance upgrades to the engine, transmission, exhaust, and much more. Be sure to insure your cherry ride for protection, or ensure your foes demise with an explosive ignition. Visit mod shops all over Los Santos and Blaine County.
WEAPONS
To make a living in Los Santos and Blaine County, you need to have the proper equipment. Get strapped with a lethal loadout by visiting your neighborhood Ammu-Nation store and pick up latest enhancements for your guns, such as silencers, extended clips, scopes, grips, and much more. There's even a wide range of paint schemes available so you can look good while bringing the pain.
PROPERTY
If the last 10 years have taught us anything, it is that property is an investment that can never go bad. You can browse Dynasty8realestate.com to find a wide range of apartments for sale; from low-end one bedrooms to high-end luxury condos. Apartments include garages of varying sizes that allow you to store and build a fleet of custom vehicles.
To buy property, visit Dynasty8realestate.com via your in-game phone's web browser, or walk up to any Dynasty 8 'for sale' sign you come across to find out all the great investment opportunities.
---
CONTENT UPDATES
Check out all the free updates that have been released for GTA Online since its initial launch starting with the latest and the top.
Discover more about each content update by clicking on the tiles below: