MAX PAYNE 3
GAME DETAILS
---
PAGE CONTENTS:
---
ABOUT
For Max, the tragedies that took his loved ones years ago are wounds that refuse to heal. No longer a cop, close to washed up and addicted to pain killers, he takes a job in São Paulo, Brazil, protecting the family of wealthy real estate mogul Rodrigo Branco, in an effort to finally escape his troubled past. But as events spiral out of his control, Max Payne finds himself alone on the streets of an unfamiliar city, desperately searching for the truth and fighting for a way out.
Featuring cutting edge shooting mechanics for precision gunplay, advanced new Bullet Time® and Shootdodge™ effects, full integration of Natural Motion's Euphoria Character Behaviour system for lifelike movement and a dark and twisted story, Max Payne 3 is a seamless, highly detailed, cinematic experience.
---
SETTING
According to Rockstar's Sam Houser, it was their intention to start a new chapter of Max Payne's life with the game: "This is Max as we've never seen him before, a few years older, more world-weary and cynical than ever." The press release states that since the last game, Max has left New York City behind and "drifted from bad to worse." The press release goes on to say Max has been double-crossed in this new city and is searching for both the truth and a way out. The game is set in São Paulo, Brazil, where several years after the events of "the first ending" of the second game. Max Payne now works in executive protection for the wealthy Rodrigo Branco and his family in the hopes of escaping the memories of his troubled past. When a street gang kidnaps Rodrigo's wife, Max is pulled into a conspiracy of shadowy, warring factions threading every aspect of São Paulo society in a deadly web that threatens to engulf everyone and everything around him.
---
STORYLINE
Nine years after the death of Mona Sax, Max Payne has retired the NYPD and spends his days at a bar in Hoboken, New Jersey, nursing his alcoholism and an addiction to painkillers. During a drunken argument, Max kills the son of local mob boss Anthony DeMarco, who puts a price on his head. After killing most of DeMarco's gang with the help of Raul Passos, Max decides to leave New Jersey with Passos, taking a job as a private security contractor in South America. Max and Passos work for the wealthy Branco family in São Paulo, consisting of three brothers: Rodrigo (Frank Rodriguez), a real-estate mogul; Victor (Robert Montano), a local politician who aspires to be the city's next mayor; and Marcelo (Dillon Porter), a hard-partying socialite. At a private party, Max saves Rodrigo and his young wife Fabiana (Benedita Pereira) from members of the Comando Sombra, a favela street gang. The gang later strikes again, successfully kidnapping Fabiana and demanding a ransom of $3 million. Max and Passos deliver the ransom to a local football stadium to make the exchange but the deal is interrupted by the Crachá Preto, an outlaw, right-wing paramilitary unit, who kill the Commando Sombra and steal the money.
After the two escape, Victor suggests they rely on Armando Becker (Ubirajara de Castro) and his special police unit Unidade de Forças Especiais (UFE) to oversee Fabiana's safe return. Victor, Passos, Marcelo and Becker leave via helicopter, moments before the Crachá Preto abruptly raid the Branco offices. Max fights off the Crachá Preto and returns to Rodrigo's secured office to find him assassinated, before learning that Fabiana is being held in the Nova Esperança favela and that the Crachá Preto raid was meant for Max, as vengeance for the deaths of the Crachá Preto operatives at the stadium. Blaming himself for what has transpired, Max swears off alcohol and informs Victor and Marcelo that he is going undercover into Nova Esperança to save Fabiana. He gets lost in the sprawling favela, but is assisted by Detective Wilson Da Silva (Stephen Girasuolo), who reveals that the Crachá Preto had links with the Brancos and suspects that Victor and UFE might also be involved. Max eventually finds Fabiana, but she is then executed. Marcelo and Fabiana's sister Giovanna (Shirley Rumierk) are kidnapped, as the UFE raid the favela. Max follows the raid and witnesses UFE collaborate with the Crachá Preto, selling them the people they arrested during the raids. Max then witnesses the Crachá Preto necklace Marcelo, and escapes with Giovanna. Fleeing from the militia, Giovanna is rescued by Passos, but Max is abandoned, later saved by Da Silva.
Da Silva reveals that Passos worked for Victor until he hired Max. Max recalls that when he and Passos worked as security for Marcelo's yacht party, which was attacked by guerrillas in the Panama Canal, he escaped the yacht to find Marcelo and Passos trying to drive away with unknown cargo. Max realises that he was recruited by Passos to be thefall guy for whatever illicit activity the Brancos were involved in. Da Silva deduces that Max was set up by Passos and Victor, so the latter would gain access to his brother's wealth and garner sympathy for elections. He then informs Max about a rundown hotel, where the Crachá Preto and UFE are seen delivering prisoners. After Max discovers it is the base for a black market organ theft ring and corrupt UFE officers are being paid to deliver the detainees for organ harvesting, he frees the remaining detainees. Max sets explosives to destroy the entire complex, but is held at gunpoint; Passos reappears and saves Max, explaining that Marcelo and Victor forced him to cooperate into getting Rodrigo to finance Victor. Passos apologizes to Max, who forgives him, before he flees the city with a pregnant Giovanna. Da Silva suggests that Max stage his surrender to the police in order to find incriminating evidence linking the UFE and Victor to the crimes of the Crachá Preto and the Comando Sombra.
After doing so, Max escapes into UFE headquarters as planned, finding evidence that a UFE lieutenant killed Rodrigo. After Max kills the lieutenant, he confronts Becker, but is held at gunpoint by Victor, who explains that he ordered the Crachá Preto to ambush the stadium exchange; the organ harvesting ring was funded by the stolen ransom money. Victor and Becker escape to the airport with Max in pursuit. After an intense shootout with the UFE, Max catches up with them as they are preparing to board a jet. Becker and his men try to stop Max and allow Victor time to escape, with Becker himself using a grenade launcher. However, Max shoots one of the grenades in mid-air, resulting in the burning and maiming of Becker, who eventually dies.
With Da Silva's help, Max disables Victor's plane, and approaches a disabled Victor with the intent to kill him, but he relents after Da Silva persuades him to spare Victor so that he will answer for the crimes he committed. Victor taunts Max that he will be set free, and Max responds by breaking his leg. A week later in Bahia, Max finds out that the remains of Becker's UFE battalion has been dissolved due to their ties to the illegal organ harvesting ring, while Victor is found dead, hanged in his cell. Finally having attained some solace, Max walks into the sunset.
---
CHARACTERS
Because Rockstar Games took a new approach with Max Payne 3, the story has a complete new location and a new array of characters to discover. Below are a list of major characters which appear in the story:
---
Max Payne:
Max Payne is the protagonist in Max Payne 3. He's the main focus through the game's series, hence its name.
---
Raul Passos:

Raul Passos works alongside Max Payne. He met him in a pub in Hoboken, and realises they knew eachother previously.
---
Rodrigo Branco:
Rodrigo Branco is whom Max Payne is being paid to protect. Max has to protect the Branco family with Raul.
---
Fabiana Branco:

Fabiana Branco is the wife of Rodrigo. She is kidnapped and held in the Favelas in São Paulo.
---
Giovanna Taveres:

Giovanna is the younger sister of Fabiana. She's in a relationship with Raul Passos and pregnant with his baby at the end of the story.
---
Marcelo Branco:

Marcelo is the younger brother of Rodrigo and Victor Branco.
---
Victor Branco:
Victor is the brother of Marcelo and Rodrigo Branco. Near the end of the game, Victor acts as a antagonistic character.
---
Armando Becker:

Armando Becker is a corrupt UFE member who acts as an antagonist towards Max Payne. He is followed by Victor Branco who supports Becker with his plans.
---
Serrano:

Serrano is the leader of the Comando Sombra gang and is an African-Brazilian criminal.
---
Bachmeyer:
Bachmeyer is the second-in-command at the UFE unit, and the right-hand man of Armando Becker.
---
Álvaro Neves:
Álvaro Neves is the leader of the Crachá Preto gang and is a Brazilian criminal.
---
Brewer:
Brewer was Max Payne's neighbour when he lived in Hoboken, New Jersey.
---
Anthony DeMarco:

Anthony DeMarco is the boss of the New Jersey-based DeMarco crime family. He is also the father of Tony DeMarco.
---
Tony DeMarco:

Tony is an Italian mobster who is the son of Anthony DeMarco.
---
Milo Rego:

Milo Rego was a Brazilian criminal and also the underboss of São Paulo's Crachá Preto.
---
WEAPONS
Max Payne 3 has the biggest collection of weapons in the Max Payne series, with a total of 46 weapons (including DLC weapons). The available and usable weapons are below.
---
Melee:
Night Stick

Cattle Prod

Stun Gun


Pepper Spray



---
Pistols:
PT92

.38 Revolver

1911

608 Bull

Auto 9mm

DE. 50
---
Shotguns:
Sawed-Off

M500

M4 Super 90

SPAS-15

Super Sport

Hammerhead
---
Sub-Machine Guns:
M10

M972

Micro 9mm

MPK

SAF .40
---
Assault Rifles:
AK-47

FAL

MD-97L

G6 Commando

RPD

LMG .30

M4 Assault

UAR-21

IMG 5.56

IA2 AR
---
Rifles / Sniper Rifles:
Mini-30

FMP G3S

M82A1

M24
---
Projectiles:
Tin can

Flash Grenade

Smoke Grenade

Tear Gas

Grenade

Molotov Cocktail

Bouncing Betty
---
Launchers:
RPG

LAW

G9

Rotary Grenade Launcher
---
CHAPTER LIST

Max Payne 3, unlike 1 and 2, is one complete playthrough of 14 chapters. The story isn't split up into parts like the others were. Below are the chapters and names:
Chapter One: Something Rotten in the Air
Chapter Two: Nothing but the Second Best
Chapter Three: Just Another Day at the Office
Chapter Four: Anyone Can Buy Me a Drink
Chapter Five: Alive If Not Exactly Well
Chapter Six: A Dame, A Dork, and a Drunk
Chapter Seven: A Hangover Sent Direct from Mother Nature
Chapter Eight: Ain't No Reprievement Gonna Be Found Otherwise
Chapter Nine: Here I Was Again, Halfway Down the World
Chapter Ten: It's Drive or Shoot, Sister
Chapter Eleven: Sun Tan Oil, Stale Margaritas and Greed
Chapter Twelve: The Great American Saviour of the Poor
Chapter Thirteen: A Fat Bald Dude with a Bad Temper
Chapter Fourteen: One Car Left to Play
---
SOUNDTRACK
From North America all the way down to São Paulo, Brazil – the original soundtrack of Max Payne 3 has been tailored to perfectly underscore the non-stop action of the game. Featuring an original score composed by acclaimed L.A. noise-rockers HEALTH, and songs and mixes by São Paulo's own Emicida and New York DJs Trouble & Bass, expect an adrenaline-pumping musical experience.
The original soundtrack and score for Max Payne 3 is composed by HEALTH, the L.A. noise band whose non-symmetrical sounds have garnered critical acclaim from the music press and fans around the world. Mixing their signature percussive undertones and synth effects, HEALTH has created a dark and driving soundscape that perfectly reflect Max's blurred and frayed mental state. HEALTH discard conventional balanced compositions and inject their signature melancholy noise pop into a score that helps propel Max as he transitions between his dark present and tragic past, giving each their own distinctive feel, while staying true to the heavy atmosphere of the Max Payne series.
---
LAUNCH DETAILS

Max Payne 3 is a third-person shooter video game developed by Rockstar Vancouver and published by Rockstar Games. It was released on 15 May 2012 for the PlayStation 3 and Xbox 360; a Microsoft Windows port was released on 31 May 2012, followed by an OS X port on 20 June 2013. The game is the first entry in the Max Payne series since 2003's Max Payne 2: The Fall of Max Payne, developed by Remedy Entertainment.
---
DOWNLOADABLE CONTENT
Max Payne 3 has 5 main DLC Content Packs which can be found below:
---
DLC 1: Local Justice Pack:
The Local Justice Pack includes three new intricate maps drawn from Max's daring single player story and customized for your Max Payne 3 Multiplayer experience: the 55th Battalion HQ map for all game modes and The Imperial Palace and Departure Lounge maps for Deathmatch, Team Deathmatch and Payne Killer modes. The pack also includes the new Light Fingers Item that allows you to swiftly loot the multitude of fallen corpses that you've scattered around the map, the rapid fire M4 Assault Rifle with attachments, new São Paulo Police Faction with a swarm of customization options, multiplayer challenges and new trophies.
---
DLC 2: Disorganized Crime Pack: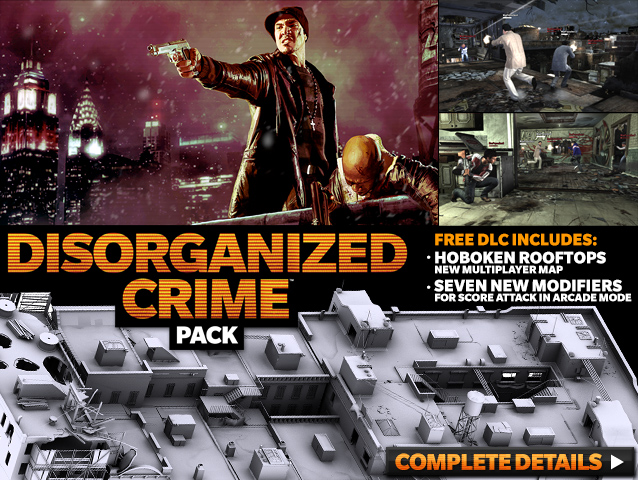 The FREE Disorganized Crime Pack for Max Payne 3 lets you battle above the streets surrounding Max's old apartment in the new Hoboken Rooftops multiplayer map. This pack also includes several new modifiers for Score Attack in Arcade Mode including Explosive Rounds where all your bullets detonate on impact, Lone Wolf AI for much more aggressive enemies and Headshots Only where the only way to kill your enemies is with a bullet in the head.
The Disorganized Crime DLC pack introduces seven new modifiers to Score Attack in Max Payne 3's Arcade Mode that bring new challenges like head-shot requirements and extra-aggressive enemies, to benefits like fiery and explosive rounds, and even the cool new Noir Mode to play in B&W.
---
DLC 3: Hostage Negotiation Pack: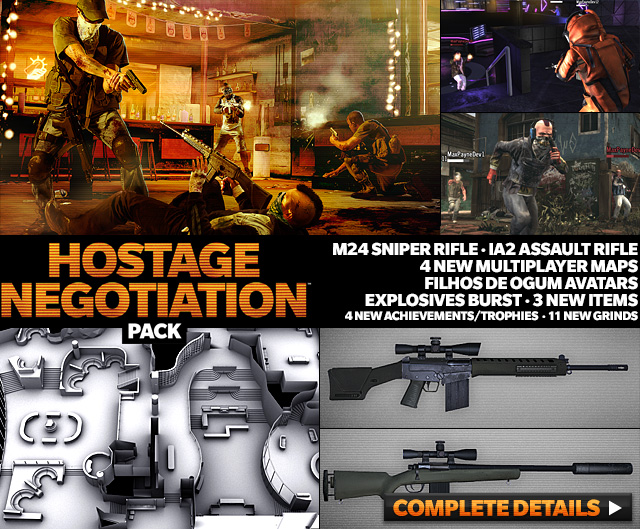 The Hostage Negotiation Pack brings four new multiplayer maps, three new Items, two new weapons, the Filhos De Ogum avatar faction, and more to Max Payne 3 multiplayer.
The Club Moderno and Estádio Do Galatians maps deliver intense nightclub and stadium shootouts, while the O Palácio Strip Club and Favela Heights maps introduce all new, highly detailed favela territories in which to do battle. Modify your Loadouts with the M24 sniper rifle or IA2 assault rifle, equip the Explosives Burst that sets booby traps, equips you with combustible ammo or drops grenades at the feet of your enemies, and fill your Item slots with gear like the Bomb Suit that protects against explosive damage, and the Intimidation Mask that slows your enemies' reload times.
The fourth gang to emerge from São Paulo's favelas into the world of Multiplayer carry a distinctive look to say the least. With customization options that allow you to select leg and facial tattoos, extremely unique accessories including padlock necklaces and athletic shoulder pads, and a wardrobe that could be described as dumpster-diving couture, the brawlers from the bottom of the Favela's food chain are desperate, dangerous and will delight as you unlock each and every unpredictable customization option.
---
DLC 4: Painful Memories Pack: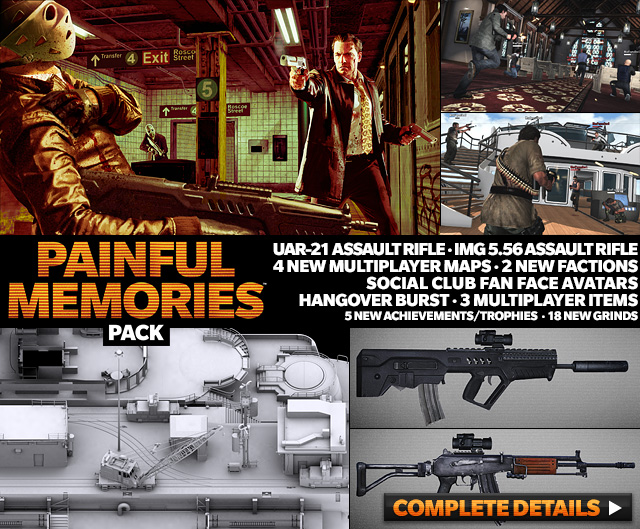 Inspired by the grisly shootouts from Max's past, the Painful Memories Pack brings four new maps to Max Payne 3 multiplayer. Revisit the subway bloodbath from the original Max Payne in the Roscoe Street Subway map. Flashback to the dingy Hoboken watering hole in the Marty's Bar map, open fire on the posh Branco family yacht in the Shoot First map or wage Gang Wars in the Canal De Panamá map. The pack also includes the IMG 5.56 and UAR-21 assault rifles, two new avatar factions, three items and the Hangover Burst, causing enemies to respawn with blurred vision, reduced stamina and health.
---
DLC 5: Deathmatch Made In Heaven Pack:
The Deathmatch Made in Heaven Pack brings four all-new co-op and competitive modes to the world of Max Payne 3 Multiplayer plus new weapons such as the Cattle Prod, Stun Gun, and Bouncing Betty, new Items, a new Burst, Achievements and more. In Dead Man Walking co-op mode, fight waves of enemies as Max and Passos, earning Grit to unlock new areas of the map, weapons, weapon attachments and ammo. In Run and Stun mode, play as the villainous Saci, Captain Baseball Bat Boy's nemesis; start with a Stun Gun and kill players to turn them to your side. Settle vendettas to score points in Marked Man mode, or get kills as fast as you can before the time runs out and the clock refreshes in Time Attack.