MIDNIGHT CLUB III
GAME DETAILS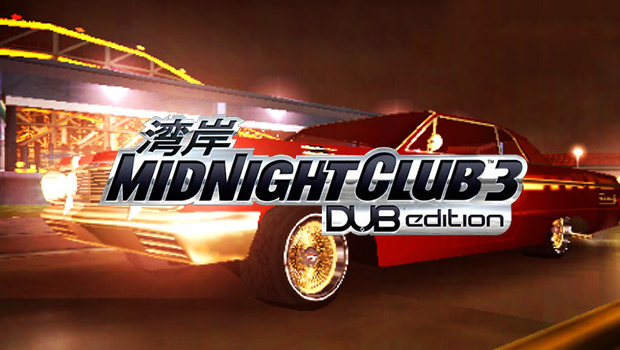 ---
PAGE CONTENTS:
---
ABOUT
Rockstar Games has joined forces with DUB Magazine, the authoritative source on automotive lifestyles, to redefine of the racing genre once again with Midnight Club 3: DUB Edition. The series that took racing from tracks to the open urban streets is back, and the stakes are even higher.
Midnight Club 3: DUB Edition delivers insanely fast, open city racing in Atlanta, San Diego, and Detroit, complete with 8-player online competition and the most comprehensive vehicle customization ever seen in a video game. Drive the hottest licensed real life SUVs, import tuners, muscle cars, choppers and luxury rides, and trick them out with the latest rims, trims, and upgrades just like in the pages of DUB.
Midnight Club 3: DUB Edition has more speed, more choices, and more chrome than any game has ever packed under the hood.
---
SETTING

Midnight Club 3 takes players across 3 large American states; San Diego, Atlanta and Detroit. They all show landmarks which you may have seen in real-life, just like past Midnight Club games have done with showing the WTC, Big Ben, Trafalgar Square etc.
---
STORYLINE
As stated above, Midnight Club 3 focuses on 3 American states; San Diego, Atlanta and Detroit. The story in MC:3 takes players through each state at a time:
San Diego:
The player starts in San Diego and meets Oscar, the mechanic of Six-One-Nine Customs, the most sophisticated tuning garage in San Diego, who will guide the player through the game. The player advances by winning races. As the player does this, new options such as body parts, paint jobs, customization options, and cars become available. Oscar introduces the player to Vince, his Detroit counterpart, and says that there are some big time races in Atlanta that the player may be interested in, so he tells him to go to the shipping company (which is used to get from city to city) to make the trip.
Atlanta:
The player has now arrived in a good-looking garage in Atlanta called "Apone Team Racing". The owner, Apone, introduces himself, but is distracted by his most prized procession: A 1964 Chevrolet Impala that he customized and is constantly tinkering with. After completing tournaments and defeating all racers, Apone is back with more news: there are some serious races down in Detroit next week and he thinks it's a good idea for the player to check it out. This is where the player transfers to the 3rd and final location.
Detroit:
The player arrives in Detroit and sees a familiar face, Vince. Remembering him, he welcomes the player to town and his shop. He later points to a Lamborghini Murciélago and says it's the prize to whatever car club turns out the best street racer. Some returning faces from Atlanta come to Detroit, including Roy and Angel, who are plot-affected racers but they are never seen or mentioned.
---
LAUNCH DETAILS
Midnight Club 3: DUB Edition is a racing game developed by Rockstar San Diego and published by Rockstar Games. The game released on both PS2 and Xbox on April 12th, 2005, with the Remix Edition launching a just under a year later on March 12th, 2006. On June 28th, 2005, a PSP Port of Midnight Club 3 was released. This version was developed by Rockstar Leeds, most known for their work on the PlayStation Portable and for developing GTA: Liberty and Vice City Stories.