RED DEAD REDEMPTION
GAME DETAILS
---
PAGE CONTENTS:
---
ABOUT
America, early 1900's. The era of the cowboy is coming to an end.
When federal agents threaten his family, former outlaw John Marston is sent across the American frontier to help bring the rule of law. Experience intense gun battles, dramatic train robberies, bounty hunting and duels during a time of violent change.
Red Dead Redemption is an epic battle for survival in a beautiful open world as John Marston struggles to bury his blood-stained past, one man at a time.
---
SETTING
Red Dead Redemption spans two fictitious United States counties and a fictitious Mexican state: New Austin, West Elizabeth, and Nuevo Paraiso. New Austin and West Elizabeth are adjacent to each other and share a southern border with Mexico. Nuevo Paraiso is a Mexican state, separated from U.S. territory by the San Luis river. The game takes place primarily in the year 1911, featuring the end of the American Frontier and the cowboy and outlaw archetypes that shaped it. The landscape of the Wild West is beginning to fade and modern technologies like automobiles, machine guns, and oil drilling projects are beginning to appear.
---
STORYLINE
The game begins in 1911, where John Marston (Rob Wiethoff), a former outlaw, is taken from his family by the Bureau of Investigation. They state Marston will be granted amnesty if he brings the remaining members of his old gang to justice. Marston agrees and sets off to track Bill Williamson (Steve J. Palmer), who now runs his own gang. Marston confronts Williamson at his stronghold, Fort Mercer, only to be shot and left for dead. A local rancher, Bonnie MacFarlane (Kimberly Irion), finds him wounded and takes him to her ranch for recovery. Several days later, Marston begins repaying the MacFarlanes for their help in the form of odd-jobs around the ranch. During this time he works with a U.S. Marshal, Leigh Johnson (Anthony De Longis) and his deputies, the dim-witted Jonah and sarcastic Eli; Nigel West Dickens (Don Creech), a con artist selling patent medicines; Seth Briars (Kevin Gilkmann), a treasure hunter and grave robber who prefers the company of the dead to that of the living; and an unreliable alcoholic arms dealer known only as Irish (K. Harrison Sweeney). Marston performs various tasks and favours in exchange for help with an attack on Fort Mercer. Marston and his group breach the fort and defeat Williamson's gang only to find that Williamson had already fled to Mexico to seek help from Javier Escuella (Antonio Jaramillo), another member of Marston's former gang.
In Mexico, Marston initially sides with Mexican Army Colonel Agustín Allende (Gary Carlos Cervantes) and his right-hand man Captain Vicente de Santa (Hector Luis Bustamante), to help put down a rebellion in return for Allende delivering Escuella and Williamson to him. However, Allende attempts to betray Marston, forcing him to side with the rebels. With the help of elderly gunslinger Landon Ricketts (Ross Hagen), rebel leader Abraham Reyes (Josh Segarra), and Luisa (Francesca Galeas), one of Reyes' many lovers, Marston leads an assault on the El Presidio fortress, where they discover Escuella, who attempts to bargain for his life by revealing Williamson has been under Allende's protection. Marston and Reyes storm Allende's palace, where they apprehend and execute both Williamson and Allende after a short chase. Reyes takes charge of the local government and plans to advance on the capital, while Marston leaves to return to his farm.
Much to his dismay, Bureau agents Edgar Ross (Jim Bentley) and Archer Fordham (David Wilson Barnes) refuse to let Marston return to his family until Dutch van der Linde (Benjamin Byron Davis), the leader of Marston's former gang, is killed. Discovering that Dutch has been building his own gang with sympathisers from the local Indian reservation, Marston joins Ross, Fordham and a group of soldiers in an attack on Dutch's hideout. Marston chases Dutch to a cliff overlooking the river and mountains. Dutch ultimately chooses to commit suicide, backing off a cliff to his death. Moments before he dies, he warns Marston that the government will just find another "monster" to justify their pay. Marston is released from his deal with the government and returns to his family at his farm. After some time Marston is forced to repel a surprise attack on his ranch from Ross and government agents. He manages to get his family to safety but stays behind to hold back the attackers. Despite a valiant last stand he is shot multiple times by Ross and his men. He is buried by his family on the hill overlooking the ranch.
The game then moves three years ahead to 1914, where Marston's son Jack (Josh Blaylock) stands over the graves of his parents, John and Abigail (Sophie Marzocchi). He leaves home to search for the now-retired Ross, and eventually finds the former agent hunting on a riverbank in Mexico. The two duel, with Jack emerging the victor. The fate of John Marston's companions are later summarized: Marshal Leigh Johnson retired from Armadillo to be replaced by Jonah, and then moved as far as possible from the town; Abraham Reyes, though promising to lead Mexico into an age of freedom, was consumed by power and became a tyrant; Bonnie MacFarlane eventually married; Irish shot himself dead in an outhouse when his gun accidentally discharged; Seth Briars eventually found the treasure he was looking for and became rich; and finally, Landon Ricketts passed away quietly in his sleep.
---
CHARACTERS
Central Characters:
John Marston (Protagonist)

Bill Williamson

Dutch van der Linde

Javier Escuella
---
Major Characters:
Abigail Marston

Abraham Reyes

Agustin Allende

Bonnie MacFarlane

Edgar Ross

Harold MacDougal

Irish

Jack Marston

Landon Ricketts

Leigh Johnson

Luisa Fortuna

Nigel West Dickens

Seth Briars

Uncle

Vincente de Santa
---
WEAPONS

Revolvers and Pistols:
Cattleman Revolver

Schofield Revolver

Double-action Revolver

LeMat Revolver

Volcanic Pistol

Semi-automatic Pistol

High Power Pistol

Mauser Pistol
---
Shotguns:
Double-barreled Shotgun

Sawed-off Shotgun

Pump-action Shotgun

Semi-auto Shotgun
---
Scoped Rifles:
Rolling Block Rifle

Carcano Rifle
---
Rifles and Repeaters:
Repeater Carbine

Winchester Repeater

Henry Repeater

Evans Repeater

Springfield Rifle

Bolt Action Rifle

Buffalo Rifle
---
Thrown Weapons:
– Main single player game, various Multiplayer game modes:
Throwing Knives

Dynamite

Fire Bottles
– Added by Legends and Killers DLC to single player, Multiplayer, and Undead Nightmare:
– Added by Undead Nightmare DLC, only in related game modes:
Holy Water

Undead Bait

Boom Bait
---
MISSION LIST

New Austin Chapter:
John Marston:
Bonnie MacFarlane:
"New Friends, Old Problems"

"Obstacles in Our Path"

"This is Armadillo, USA"

"Women and Cattle"

"Wild Horses, Tamed Passions"

"A Tempest Looms"

"The Burning"
Leigh Johnson:
"Political Realities in Armadillo"

"Justice in Pike's Basin"

"Spare the Rod, Spoil the Bandit"

"Hanging Bonnie MacFarlane"

"The Assault on Fort Mercer"
Nigel West Dickens:
"Old Swindler Blues"

"You Shall Not Give False Testimony, Except for Profit"

"Liars, Cheats and Other Proud Americans"

"Can a Swindler Change His Spots?"

"The Sport of Kings, and Liars"
Seth Briars:
"Exhuming and Other Fine Hobbies"

"A Gentle Drive with Friends"

"Let the Dead Bury Their Dead"
Irish:
"A Frenchman, a Welshman and an Irishman"

"Man is Born Unto Trouble"

"On Shaky's Ground"

"We Shall Be Together in Paradise"
---
Nuevo Paraiso Chapter:
Vincente de Santa:
"Civilization, at Any Price"

"The Demon Drink"

"Empty Promises"

"Mexican Caesar"

"Cowards Die Many Times"
Landon Ricketts:
"The Gunslinger's Tragedy"

"Landon Ricketts Rides Again"

"Lucky in Love"

"The Mexican Wagon Train"
Luisa Fortuna:
"My Sister's Keeper"

"Must a Savior Die?"

"Father Abraham"

"Captain De Santa's Downfall"
Abraham Reyes:
"The Great Mexican Train Robbery"

"The Gates of El Presidio"

"An Appointed Time"
---
West Elizabeth Chapter:
Edgar Ross:
"Bear One Another's Burdens"

"Great Men are Not Always Wise"

"And You Will Know The Truth"

"And The Truth Will Set You Free"
Harold MacDougal:
"At Home with Dutch"

"For Purely Scientific Purposes"

"The Prodigal Son Returns (To Yale)"
---
Marston Ranch Chapter:
Abigail Marston:
"The Outlaw's Return"

"Pestilence"

"Old Friends, New Problems"
Uncle:
"By Sweat and Toil"

"A Continual Feast"
Jack Marston:
"John Marston and Son"

"Wolves, Dogs and Sons"

"Spare the Love, Spoil the Child"

"The Last Enemy That Shall Be Destroyed"
---
SOUNDTRACK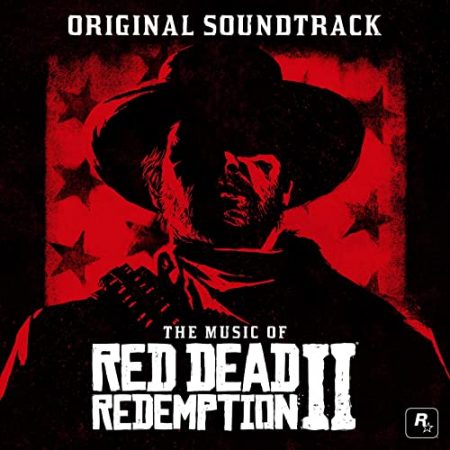 THE SCORE:
Composed by critically-acclaimed recording artists Bill Elm and Woody Jackson, the Red Dead Redemption score is an expansive range of tones and sounds that captures the haunting sound of the dying American West and Mexico at the turn of the century. Filled with sweeping strings, martial timpani, and piercing horns, this music was performed on authentic instruments of the period by a host of notable and accomplished session musicians under Elm and Jackson's helm.
---
THE SOUNDTRACK:
With the in-game score being written in stems versus actual songs with a clear beginning, middle and end, Irish DJ, producer and composer David Holmes was called in to sift through over 14 hours of recorded music and then piece together and create songs that had listenability outside of gameplay as stand-alone music. The pieces were written at 130 bpms and in A minor, for maximum blendability and diversity of sound.
---
LAUNCH DETAILS
Red Dead Redemption is an open world western action-adventure video game developed by Rockstar San Diego and published by Rockstar Games. It was released for the PlayStation 3 and Xbox 360 consoles on May 18, 2010. It is the second title in the Red Deadfranchise, and is a spiritual successor to 2004's Red Dead Revolver. The game, set during the decline of the American Frontier in the year 1911, follows John Marston, a former outlaw whose wife and son are taken hostage by the government in ransom for his services as a bounty hunter.
---
DOWNLOADABLE CONTENT
Red Dead Redemption had 5 DLC updates. 4 were content packs 1 was a story expansion called "Undead Nightmare". Below are the 4 DLC content packs with links and brief information. You can learn more about Undead Nightmare by checking out the Undead Nightmare section under the Red Dead Series.
DLC 1: Myths and Mavericks: This completely free Bonus Pack DLC is our token of appreciation for all the amazing Red Dead fans out there especially those who are keeping online multiplayer as busy and as fun as ever. Myths and Mavericks includes a whole bunch of new fan-favorite multiplayer characters from the single-player story, as well as new multiplayer locations including Cochinay, Nekoti Rock and Beecher's Hope, plus new Stronghold games in Armadillo, Tumbleweed, and Chuparosa.
DLC 2: Liars and Cheats: The Liars and Cheats Pack massively expands the Red Dead Redemption Free Roam multiplayer experience with a huge array of new highly-requested content and also adds an entirely new action-packed Competitive mode.
DLC 3: Legends and Killers: The Legends and Killers Pack adds to the epic Red Dead Redemption multiplayer experience with a ton of brand new features – including nine new active Competitive mode map locations tailored for multiplayer action, 8 playable characters from Red Dead Revolver, the devastating Tomahawk weapon and more.
DLC 4: Outlaws to the End: The Outlaws to the End Co-Op Mission Pack adds on to the epic Red Dead Redemption online multiplayer experience with the introduction of six all-new and action-packed Cooperative Multiplayer missions you can play with 2-4 players.