Grand Theft Auto: The Trilogy – Definitive Edition Official Announcement
By Lewis In Grand Theft Auto: The Trilogy On 8 October 2021
---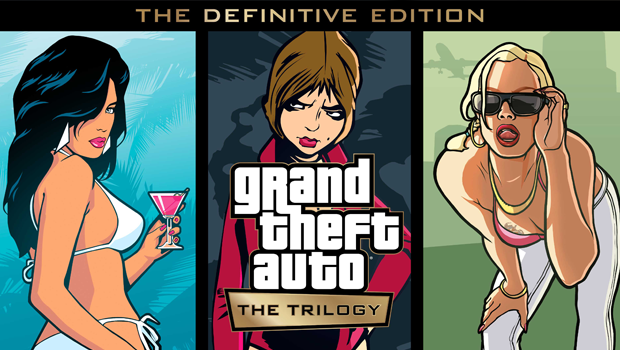 ---
After weeks of speculation and rumours, the news we have all been waiting for has finally arrived! The ground-breaking Grand Theft Auto III alongside it's brother and sister games; Grand Theft Auto: Vice City & Grand Theft Auto: San Andreas, will be coming to modern-generation of consoles with a complete graphical makeover as a part of the GTA Trilogy – Definitive Edition. The announcement comes from Rockstar Games today, who has thanked the GTA Community for all of their hard work and support over the last 20 years since GTA III was initially released. Find out more information which was posted on the Rockstar Newswire below.
---
"Later this month marks a very special anniversary for Rockstar Games: 20 years since the original release of Grand Theft Auto III — the game that set players loose in the sprawling, three-dimensional metropolis of Liberty City with a new and unprecedented sense of freedom and immersion. In addition to carving a new path for the open world genre, Grand Theft Auto III established Grand Theft Auto as a cultural phenomenon, alongside its two subsequent — and equally legendary — entries in the series, Grand Theft Auto: Vice City, and Grand Theft Auto: San Andreas.
We'd like to extend a heartfelt thank you to all the Grand Theft Auto fans who have supported the games over the past two decades. Your love and appreciation for these games has helped push the Grand Theft Auto series forward with every iteration.
In honor of the upcoming anniversary, today we are excited to announce that all three games will be coming to current generation platforms later this year in Grand Theft Auto: The Trilogy – The Definitive Edition for PlayStation 5, PlayStation 4, Xbox Series X|S, Xbox One, Nintendo Switch, and the Rockstar Games Launcher on PC. Grand Theft Auto: The Trilogy – The Definitive Edition will feature across-the-board upgrades including graphical improvements and modern gameplay enhancements for all three titles, while still maintaining the classic look and feel of the originals. We're extremely excited to share more about these groundbreaking titles in the coming weeks — stay tuned!
To prepare for launch, we will begin removing existing versions of the classic titles from digital retailers next week. For more information, please visit Rockstar Games Support. In addition, Grand Theft Auto: The Trilogy – The Definitive Edition will be coming to iOS and Android in the first half of 2022."
---
We are extremely thrilled that Rockstar Games are re-releasing such iconic games and we look forward to seeing more in the weeks ahead. Stay tuned to our website for more information as it is released and also the launch of our dedicated GTA Trilogy pages which will be added soon.
---