GTAOnline Event Week Update 14/10/21 – Triple Rewards on Sumo & GTAIII Anniversary Bonus
By Lewis In GTAOnline On 14 October 2021
---
---
This week in GTAOnline brings a bunch of new bonuses including some x2 GTA$ & RP on Contact Missions and Special Vehicle Work which will be sure to bump up that bank balance. Not only that, but in celebration of 20 years since Grand Theft Auto III released, there is a cool bonus t-shirt you can unlock by simple logging into GTAOnline this week! All the information can be found below.
---
Get the Rockstar Games Typeface Tee
Playing GTA Online at any point between now and October 20 will earn you the Rockstar Games Typeface Tee — the first in a collection of special commemorative clothing and liveries celebrating the 20th anniversary of Grand Theft Auto III.
---
2X GTA$ and RP on Special Vehicle Work and Earn Bonus GTA$ on Daily Objectives
Executives looking to line their pockets can use the SecuroServ computer terminal in their Office to launch Special Vehicle Work Missions, all of which are paying out Double Rewards.
In your travels, remember to check your Interaction Menu for the latest Daily Objectives and make sure to complete them when you can. Complete all three Daily Objectives for an additional 50% GTA$ payout this week.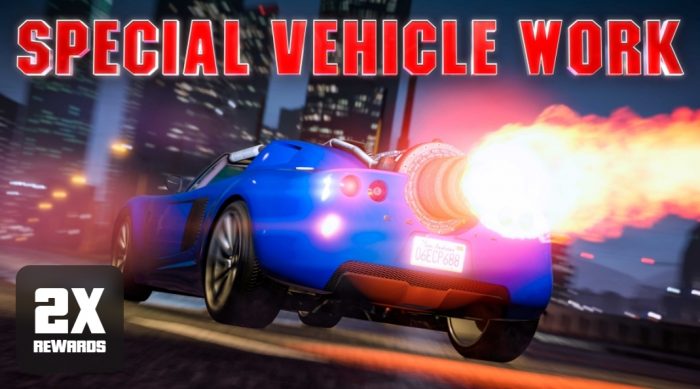 ---
2X GTA$ and RP on Gerald's Last Play and Gerald Contact Missions
Pay Gerald a visit this week or give him a call on your iFruit; helping Gerald and the Families out on a Contact Mission will earn you 2X GTA$ and RP for your trouble.
---
Car Meet Prize Ride and Challenge
LS Car Meet members who place in the Top 3 in 6 different LS Car Meet Series races over the course of the next week will get the keys to a Vapid Dominator ASP in return for their tenacity and razor-sharp reflexes.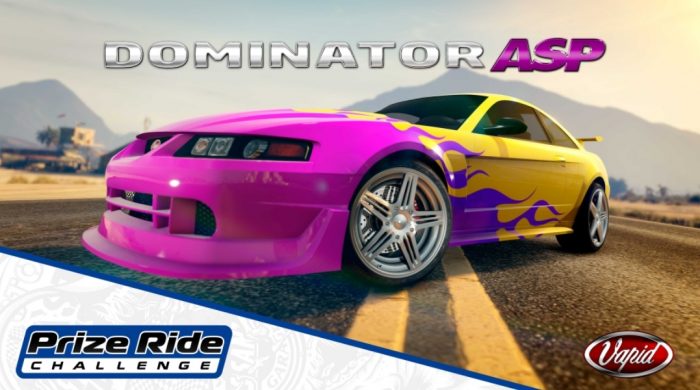 ---
Test Track Vehicles
Once you've visited the merch truck and gotten a new tattoo, maybe you should traipse over to the Car Meet's Test Track and give the Karin Sultan RS Classic, Übermacht Cypher and Annis ZR350 a spin before you commit to purchase. See how they fare in a Scramble, a Time Trial, or just race it between the columns and get an idea for how they handle.
---
This Week on the Podium: The Dewbauchee Specter
Pay the lobby of The Diamond Casino & Resort a visit anytime this week to see and be seen, but also to give the Lucky Wheel a spin. You'll walk away with either GTA$, RP, clothing, snacks, or mystery prizes of all shapes and sizes. This week on the podium is the Dewbauchee Specter, a car most will only see as a blur blowing by them on the freeway.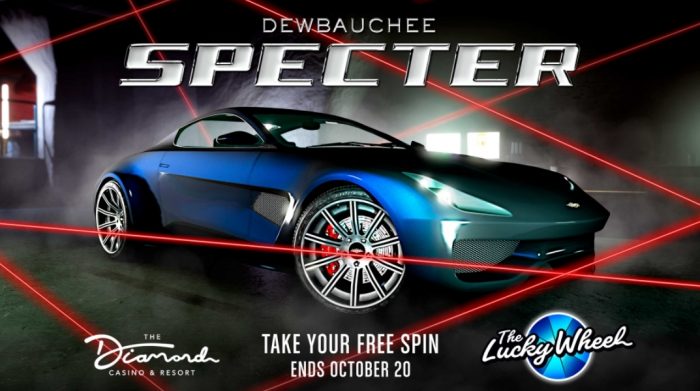 ---
DISCOUNTS
Cars can do so much more than just drive – with a little extra tender love and care you can make them jump. Visit Benny's anytime this week to give your beloved chariot a makeover with 50% off all Hydraulics. You can also take 30% off the retail price of the Declasse Moonbeam and Albany Primo, as well as their Benny's custom vehicle upgrades.
All Garages are 40% off for the next seven days, while the following vehicles can be acquired with substantial savings:
Vapid Slamtruck – 30% off

JoBuilt Hauler Custom – 30% off

Lampadati Casco – 40% off

Yosemite Rancher – 30% off

Vapid Clique – 40% off
---
Prime Gaming Bonuses and Benefits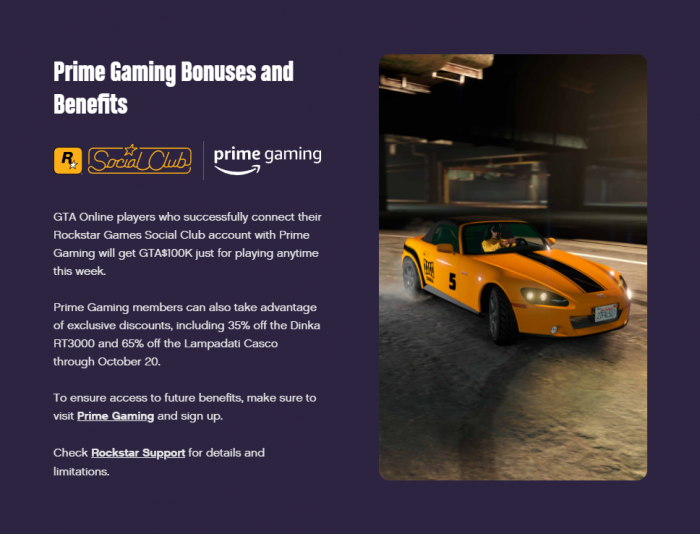 ---